As the new normal of staying at home as much as possible is being accepted in most parts of the world, various ways of living sustainably are starting to emerge. Some started growing vegetable gardens in their homes, while others ventured into businesses that could get food and other essential items into homes without having homeowners leave their homes. In some places where there is a nearby forest, mushroom hunting started to gain popularity among locals.
Mushroom Hunting in Oregon
The weather in Oregon is a frequent shift between moderate temperatures and rain showers making its forests the perfect ecosystems for growing edible mushrooms among many other types of vegetation. As a result, residents of nearby forests have taken a liking to mushroom picking.
While the whole world is fascinated with succulents and philodendrons as a hobby, some got into foraging mushrooms as a means to put food on the table.
As the delicious fungi grow back into their patches at only around once every year, those who have experience in foraging for mushrooms might be reluctant to give away the patch locations.
This means that it is most recommended to search for the patch through research and some good old hiking.
CHECK THIS OUT: Fishing in Alaska is an Adventure You Don't Want to Miss
Mushroom hunting in Oregon is not only for locals of the area but for visitors as well. While most mushrooms can be picked from September to November, other species grow into their patches at a different time of the year. Still, if visitors wish to take home some mushrooms, the best time to drive to Oregon is when during the rainy season.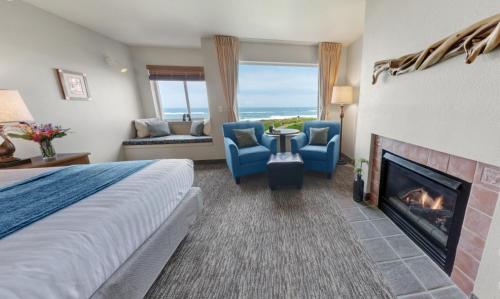 Overleaf Lodge, Yachats (OR), United States (about 42 minutes from Siuslaw National Forest)
In Oregon, mushroom hunting is famous in places such as the Tillamook State Forest and Siuslaw National Forest, both with a large area covered with mushrooms.
Edible Mushrooms
For first-time mushroom foragers, it is recommended to conduct thorough research before hiking the forest trails for mushrooms. This is because mushrooms that grow in forests are not exclusive to the edible type only, there are also poisonous mushrooms that thrive in the lush ecosystem of Oregon forests.
BUCKET LIST ITEMS: 6 Montana Road Trip Plans with the Best Views
Some of the edible mushrooms that can be found in the Tillamook State Forest and Siuslaw National Forest include lobster mushrooms, chanterelles, cauliflower mushrooms, matsutake, porcini, and oyster mushrooms.
---